Autumn may be when the hot chocolate is drank, and sweaters are donned, but its also the start of candle season! I love candles, and may or may not have a hoard of them in a box in my room, and because with the arrival of fall comes the arrival of new candles, I had a look on the internet and found some intriguing ones! Enjoy :)
1
Pinecone Candle - Chapters Indigo If I had this candle, i don't think I would ever light it because its too pretty, but i think it would look great among some fall or Christmas decorations, right?
2
Leaves scented candle - Bath and Body Works
For those of you who love jumping in leaves, now you can be surrounded by the smell of leaves all day long! (I really hope it smells better than it sounds)
3

Cloche 3-Wick

Snow Covered Pine

Candle

- Chapters Indigo I am loving the glass cloche that is covering the candle, and even once this candle is used up, the cloche can be used for other candles! Once again, the scent is perfect for winter and Christmas.
4 Kate Spade New York® Be Dazzling Candle - Chapters Indigo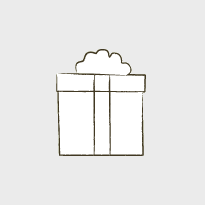 This is another candle I wouldn't light, i think I would keep it in my room and just admire it :)
5 Bistro Candle Tin - Anthropologie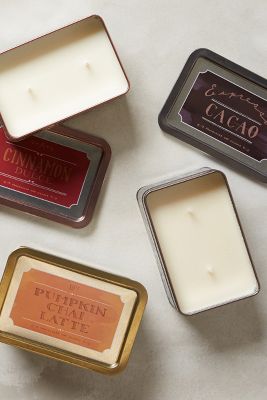 Anthropologie has the best ideas, like this cute candle tin! its shape allows for two wicks and the tin makes it both cute and bathroom safe! I think Cacao sounds like an awesome scent!
6 Swedish Dream Sea Salt Candle - Anthropologie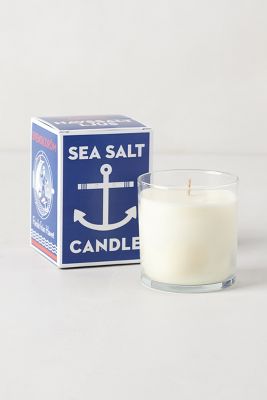 I saw this and just had to include it. Like the leaves candle, i hope it smells better than it sounds. It should be great for people who like the smell of the ocean though.
7 Black Raspberry Vanilla Ring Candle - Jewelry Candles
For those of you who have never heard of Jewelry Candles, each candle basically has a pouch inside it containing a piece of jewelry. I chose a ring candle to show you, but the pouch reveals itself after you use the candle, because the pouch is in the wax somewhere. I love the idea of this, and it would be a great present for somebody.
8 Scented SOY Woodwick Jars Candles - Yummi Candles
This candle was very interesting because as you can see, it has a piece of wood lodged in where you would usually find a wick. I also love the different layers of wax, and the colours are beautiful. This is a very unique alternative to regular candles.
9 15hr Votive Candles and Ribbed Candle Holders - Yummi Candles
Another cool candle i found at Yummi Candles was the cupcake candle, which is what is shown above. Basically, you stick the votive candle in the holder, and because of its shape, you have a candle cupcake! i love how they have so many different colours of candles to chose from so you can have different coloured candle cupcakes :)
10 VINTERMYS - Unscented Block Candle - IKEA
This I found at IKEA. Can i just ask, how on earth do you make these?! They look like they could literally camouflage against a red sweater. Perfect cozy fall decoration if you ask me, and can work for Christmas as well!
I hope you enjoyed looking at these candles, it is always fun to see what new candle ideas there are i think. Which candle will you be using this fall?